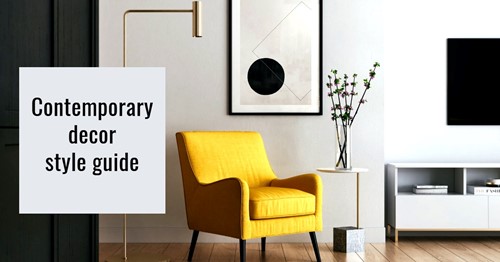 Homeowners are often searching for a way to keep their home updated without the overwhelming amounts of clutter that seem to come with upgrading designs or styles. That's where contemporary decor comes into play.
The contemporary style is regularly confused with modern design, but there are a few key differences between the two. The most significant difference lies with the baseline of each style. Modern design typically touts an era where furniture was soft and rounded, with groovy accessories and modern decor from the 1950s and 1960s.
Contemporary style refers to clean and simple lines, accompanied by art deco wall art and furniture that accentuates horizontal lines.
Curious about what other features may be included in this simplistic, clutter-free interior design? Here are a few quick and easy basics for one of the hottest design styles to enter interior design.
Color
Contemporary interior design often boasts neutral tones, such as beige, peach and sandy hues. When accenting the design itself, black and white abstract art pieces or clean lines featured on walls in a black or white paint are usually the easiest way to bring out the potential in contemporary design.
To give your room a distinct flair, add a pop of color with decorative accessories. Be sure to use them sparingly to avoid any unnecessary clutter.
Furniture
Using furniture as decorative pieces ranks high in the interior design playbook. Using pieces that are bold with a simple elegance and clean, geometric shapes is a must for this style.
For example, a contemporary living room may utilize an off-white sofa with clean horizontal lines around the backing and arm rests. The legs may be something simple, such as black steel supports.
Lighting
Lighting provides a key element to the contemporary style. Most contemporary lighting focuses on ambient glow, exposed tracks and recessed fixtures. For those who enjoy the chic aesthetic of hanging light fixtures, try pendant lights with a simple design in black for lighter rooms, white for darker rooms or neutral for those in between.
Space
Creating deliberate space between objects is a contemporary design must. The use of negative space, or the empty areas throughout the room, helps open the room while providing a clear focal point with minimal effort.
Space can be incorporated by utilizing the preexisting straight lines in the room, such as tables in the dining room or art deco accessories lining the walls. Just follow the same horizontal line to provide a pathway for your chosen room's design.
These elements have catapulted contemporary design into one of the most distinct design styles used by those who enjoy the minimalist aesthetic. It blends well with bold but sparing pieces and helps keep clutter to a minimum.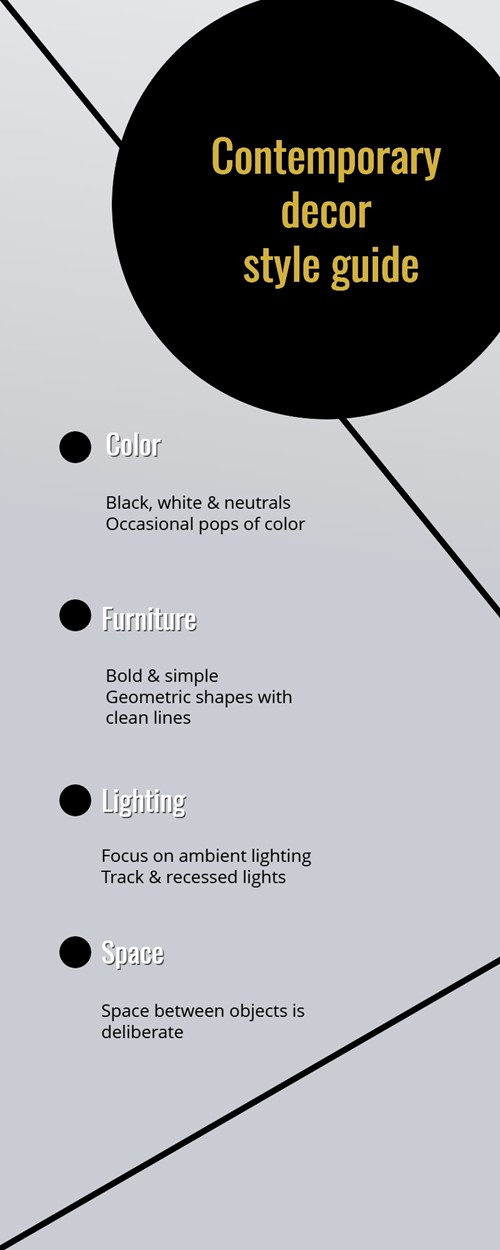 Whether you want to add a little extra flair to your current design for a more Boho-chic vibe or simply embrace the minimalist style, these contemporary interior design basics will help you solidify your perfect style.