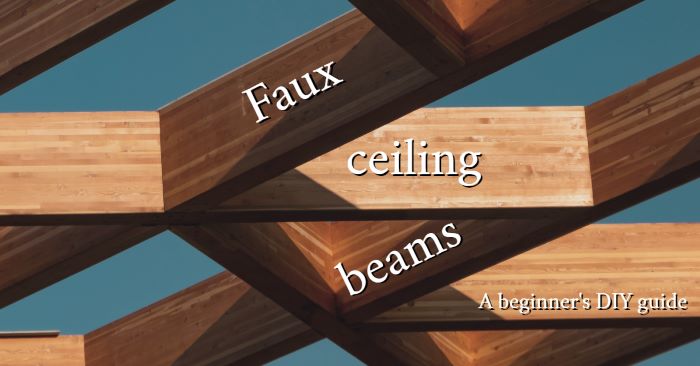 If you've always wanted the contemporary and rustic aesthetic of exposed ceiling beams, DIY is a viable option. You can create your own faux wood ceiling beams in your choice of stain, paint color or finish.
If you're interested in trying faux ceiling beams in your own home, here is some of the most important information to know:
Consider installing faux beams
There are many types of wood beams you can use for this project depending on the aesthetic you're going for. You can use reclaimed barn wood, veneered plywood or authentic hardwood like oak or cherry.
However, for ease of installation, you might also consider ready-made faux beams made from high density foam. Some companies specialize in manufacturing these beams to mimic the appearance of real wood with a fraction of the weight and installation effort.
Materials & tools needed
Your choice of materials will depend on whether you go for hardwood, plywood or faux wood beams. However, these are the basic tools you'll need for the project:
Woodworking tools.
Belt sander.
Ladder.
Drill driver.
Table saw or track saw.
Wood glue.
Construction screws.
Stain or finishing supplies.
Costs
One of the biggest advantages of a DIY project is that you'll save money on supplies and labor. This is true even for more complicated projects like these. However, depending on the size of the ceiling space and your choice of materials, the project can still cost anywhere from $300 to $ 7,000.
At the higher end of the scale, you can expect quality installation by a trained professional using top-notch materials and methods.
Safety
If you decide to DIY faux beams in your home, safety is extremely important. Always wear protective equipment and have somebody assist you when working on a ladder. When installing wood beams, you'll need to hold heavy materials over your head, so make sure you have head protection and measures in place to prevent accidents.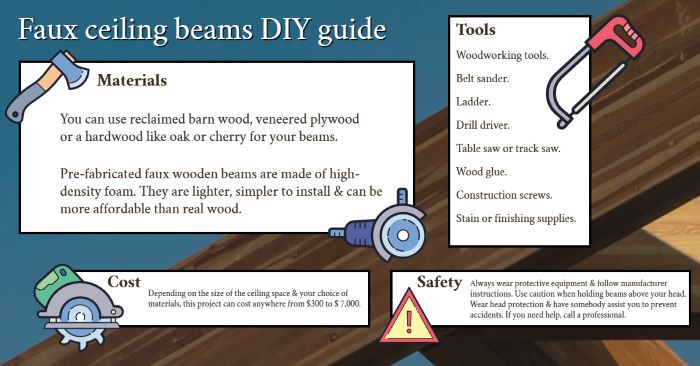 Adding ceiling beams to a room can instantly transform the entire aesthetic of the space. Whether you prefer the industrial, farmhouse, rustic or contemporary styles of design, installing faux beams is a simple and affordable way to achieve it.